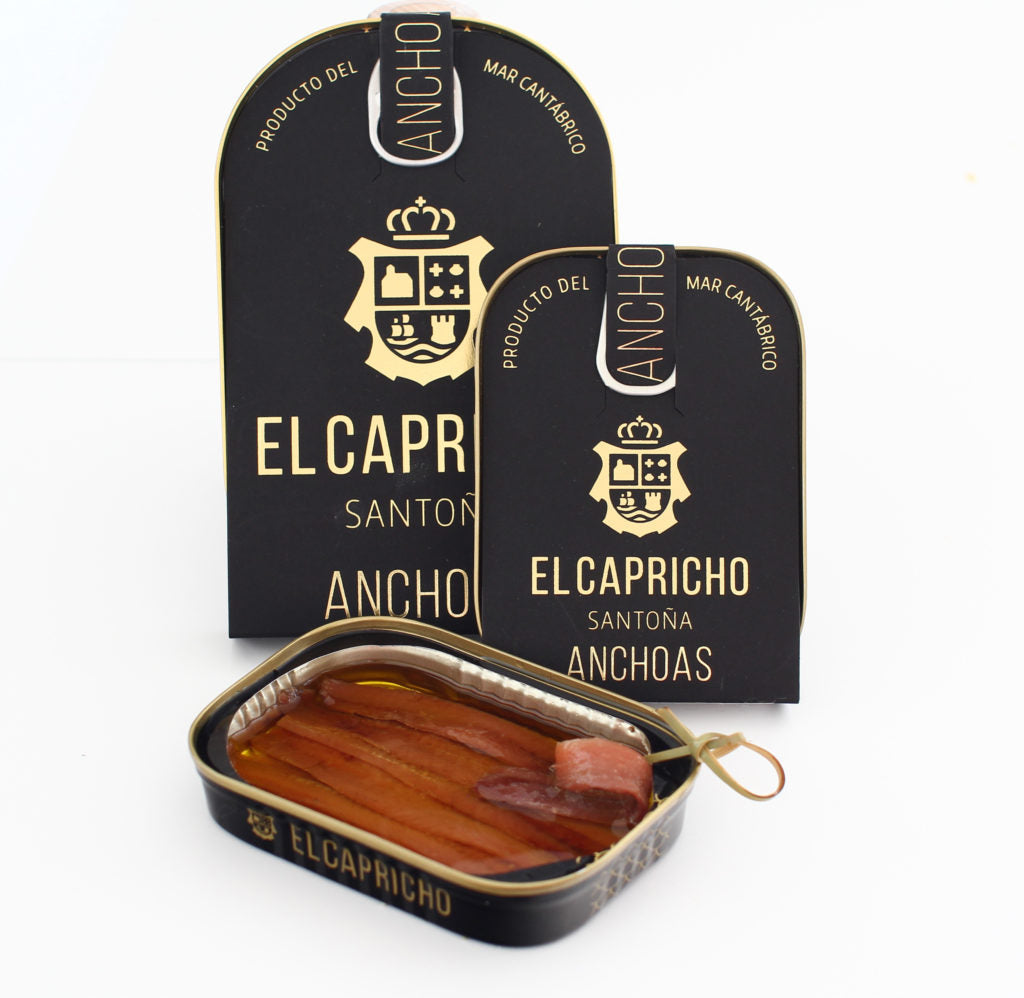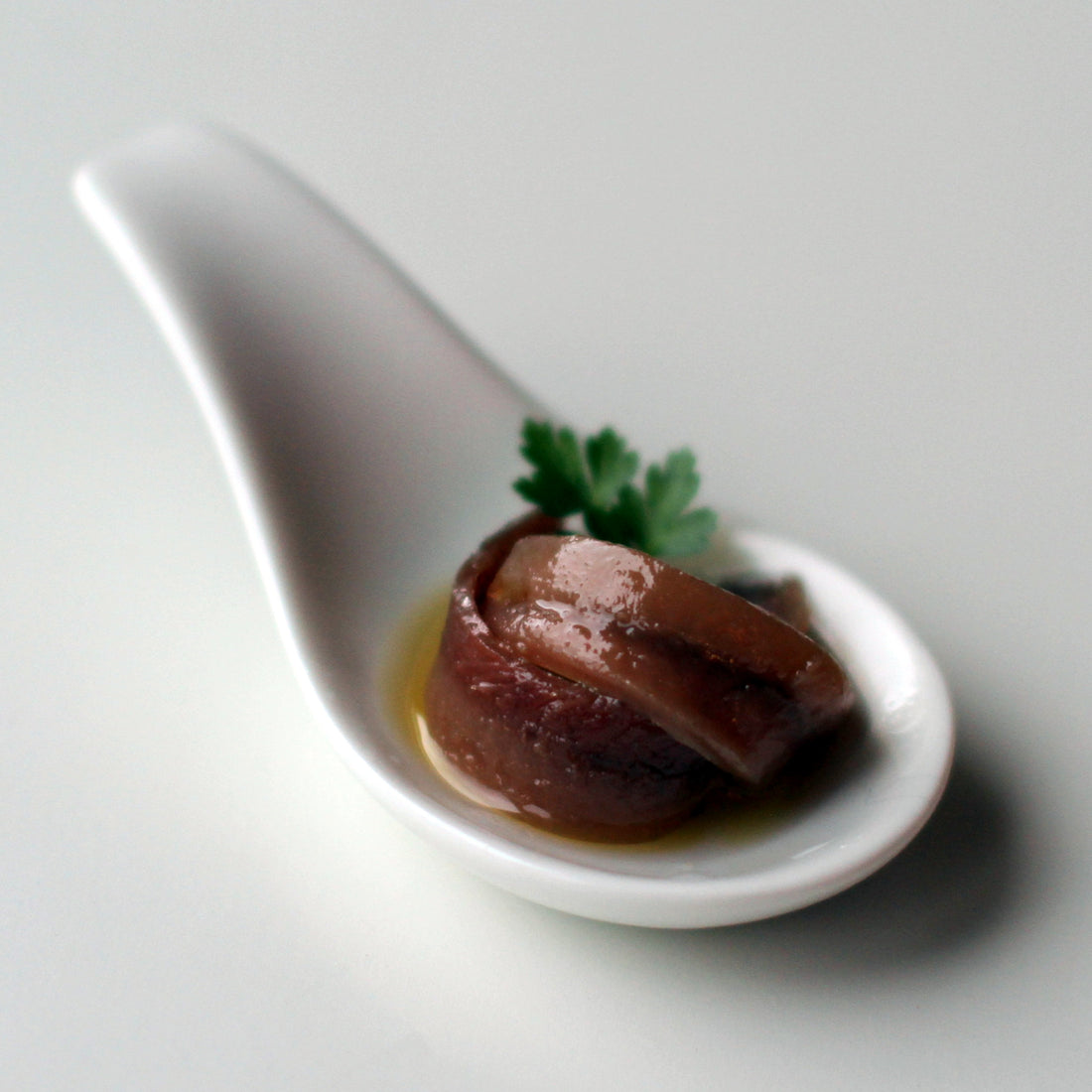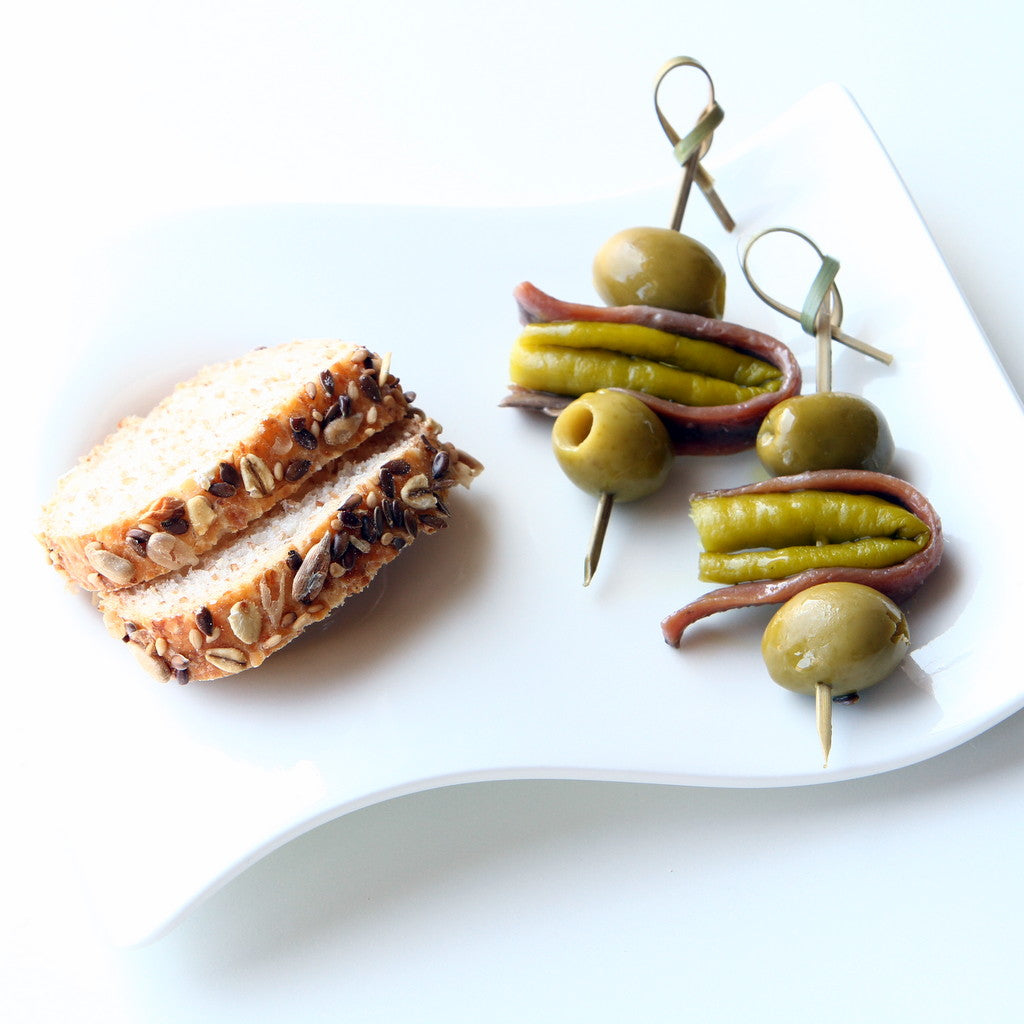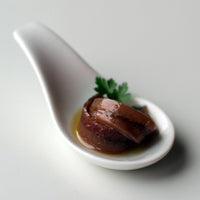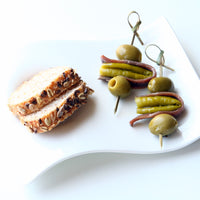 El Capricho | Anchoas | Cantabrian Sea Anchovies in EVOO | 95 g
Anchoas de Cantabria en EVOO 'Castillo de Canena'
Cantabrian Sea Anchovies in EVOO 'Castillo de Canena'

The GOLD of the Cantabrian Sea.
Conservas El Capricho anchovies are exclusively fished in the Cantabrian Sea (the Bay of Biscay, FAO 27 and FAO 37).
The elaboration process is completed at the facilities in Santoña, Cantabria. Its age-old method begins by precisely eviscerating, filleting, skinning, and neatly trimming before curing in sea salt the same day it fished out of the sea. Then slow-maturing for a minimum of 12 to 18 months, eliminating all grease and obtaining its intense aroma, consistently reddish color, meaty texture, and exceptional taste.
The anchovies are wrung out before hand-filleting, which produces a low-salt fillet (7.3 grams of salt per 100 grams of anchovy). This also extends its lifetime of 12 months. The filleting and deboning are done delicately by skilled women and evenly placed in a tin, adding Arbequina extra virgin olive oil from Castillo de Canena.
These traditional and artisanal pure Cantabrian anchovies display a plump, meaty texture, umami-rich flavor, complexity, and depth. Taste the Gold of the Cantabrian Sea.
Brand
Conservas El Capricho is a family business located in Santoña, a small traditional fishing village with a rich history known as the birthplace of anchovy fillets. They are committed to providing a healthy and nutritious gourmet product of exquisite quality and distinction, preserving the sea's authentic taste! 
The Cantabrian Sea (Bay of Biscay, FAO 27, and FAO 37) is the primary element and inspiration for bringing the freshest fish to the consumer. Conservas El Capricho purchases anchovies from small inshore Spanish boats during the spring fishing season using traditional fishing methods such as purse seine. The Bonito is line-caught during summer—both highly appreciated and sustainable practices.
The catch of the day is brought to the facilities in Santoña, where the fresh fish is handled with exceptional care, following a rigorous, unique process, and hand-packed by skilled artisans to create the ultimate product into a delicacy.
Beverage
Dry Vermouth. Fino or Manzanilla sherry. Provence Rosé. White wine, in particular, Txakoli and Albariño.
Food
Enjoy as a snack or serve on toast and salads.
Ingredients
Anchovies (Engraulis encrasicolus), Arbequina extra virgin olive oil (Castillo de Canena), and salt.
Other
Product of Spain | Santoña, Cantabria | Anchoas en Salazón
Hand Packed | Dingley ±18 fillets | High in Omega-3 Fatty Acids (EPA+DHA)
Non-BPA | Non-GMO | Soy-Free | Gluten Free
Allergens | Contains fish
To retain its delicate texture, keep it refrigerated, preferably between 3 °C and 5 °C (38 °F to 41 °F). Once open, refrigerate and consume it within one day.
Net Weight 3.37 oz. (95 g) | Drained Weight 1.76 oz. (50 g)